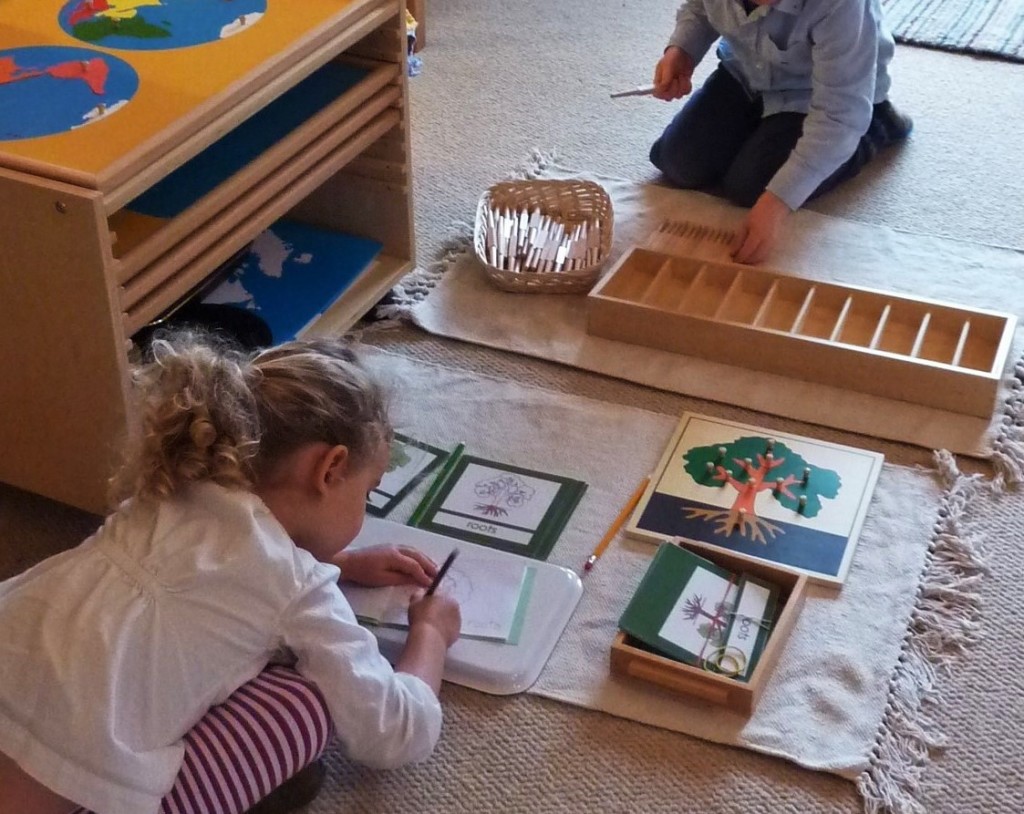 Montessori schools are often called the Children's House because everything in them is designed to allow the child to become physically independent; the materials are child sized and the equipment is laid out in an orderly fashion on low shelves that are easily accessible for the children. The equipment is beautiful and well cared for, which encourages the children to take care of it too. Children between the ages of approximately two and a half and six are grouped together in their own mini society. The youngest learn from watching the older children and the older ones benefit by helping those younger than them. The mixed age group allows the children to naturally develop socially, intellectually and emotionally.
In a Montessori school children choose their activities independently and move freely from one activity to the next – always returning things to the shelf after they have used them. In an atmosphere of calm, young children concentrate for surprisingly long periods of time, working individually, in a group or with a friend. Ideally the morning or afternoon session lasts for a minimum of three hours (The three hour work cycle); three hours in which there is no particular timetable, where the children are not only free to choose the activities they wish to work with but are also free to work with them for as long as they wish. Groups can then arise spontaneously according to the interests of the children. Maria Montessori observed that this extended period of time was essential for the children to develop their ability to concentrate.
I have found this feeling of calm, busy energy in each of the Montessori classes that I have worked in and I have come to realise that it is the freedom that the child experiences; freedom of movement, freedom to choose their own activities and freedom to engage in these activities for as long as they want, within the order of a well prepared and interesting environment that allows the child, no matter what their particular personality, challenges, or background, to find peace and happiness. It is from this place of well-being and contentment that their desire to learn develops naturally and spontaneously.
"If we could say, "We are respectful and courteous in our dealing with children, we treat them as we should like to be treated ourselves," we should have mastered a great educational principle and be setting an example of good education."
Maria Montessori